Chevrolet Camaro Gen-1 '69
Chevrolet Camaro: мечта миллионов
Chevrolet Camaro пятого поколения 2010 модельного года появился в демонстрационных залах дилеров в 2009 г., после семилетней паузы.
Дизайн автомобиля очень близок к Chevrolet Camaro первого поколения, производившегося с 1967 до 1969 год, и ставшего настоящим американским символом. Тогда по радио звучал рок-н-ролл, и американская культура захватывала земной шар. Но, что действительно сделало Chevrolet Camaro символом, так это то, что автомобиль был доступен для миллионов желающих. За первые три года было продано более чем 699 000 Chevrolet Camaro.
Комплектации и цены Chevrolet Camaro 2015
| | |
| --- | --- |
| Комплектация | Цена, руб. |
| 3.6 (328 л.с.) 2LT AT6 | 3 900 000 |
| 6.2 (405 л.с.) 2SS AT6 | 4 600 000 |
AT6 — автомат 6-ст.
Как и автомобили Chevrolet Impala, Chevrolet Chevelle и Chevrolet Sting Ray, Chevrolet Camaro продемонстрировал свой элегантный стиль и высокое качество, предназначенные для массовой аудитории. Как сказал тогда вице-президент Chevrolet Эд Пепер (Ed Peper): «Chevrolet Camaro – это автомобиль для энтузиастов, молодых и старых, которые почитают наследие Chevrolet Camaro в его полностью современном дизайне».
Оригинальный проект разрабатывался инженерами США и Австралии, испытания автомобиля проводились на дорогах всего мира в различных климатических условиях, а сборка производится на заводе в г. Ошава, находящемся в провинции Онтарио (Канада).
Дизайн Chevrolet Camaro V
Chevrolet Camaro – двухдверное четырехместное спортивное купе с задним приводом, относящееся к классу Compact Car (с меньшими габаритными размерами, чем у масл-каров). У этого пони-кара 2852 миллиметровая колесная база. Полная длина автомобиля составляет 4 836 мм, ширина и высота: 1 918 мм. и 1 376 мм. соответственно, а минимальный радиус разворота 5,8 м. Нет официальных данных, какой у него клиренс (дорожный просвет), но есть информация, что он равен 5 дюймам.
Аэродинамический коэффициент автомобиля равен 0,37 у моделей с двигателем V-6, и 0,35 – на Chevrolet Camaro, оснащенных мотором V-8.
Колесные арки Chevrolet Camaro спроектированы таким образом, что независимо от установленных дисков, стандартных 18-дюймовых с шинами P245/55R18 или опциональных 19-20′, с шинами P245/50R19 Pirelli или 245/45R20 передними и 275/40R20 задними, отношение вершины шины к нижней части крыла автомобиля всегда одинаковое.
Боковые средние стойки Chevrolet Camaro сделаны так, что добавляют жесткости кузову, и, в то же время, их практически невидно, что создает иллюзию, будто это автомобиль с жесткой складной крышей. Можно заказать стеклянную крышу с электроприводом, но за это надо будет доплатить еще 50 000 рублей.
Цветовая гамма состоит из девяти оттенков, в которые входят: Black, Victory Red, Silver Ice Metallic, Ashen Gray Metallic, White и Imperial Blue Metallic. Но самый известный из них Rally Yellow, знакомый по фильму «Трансформеры», где робот Bumblebee эффектно трансформировался в желтый Chevrolet Camaro с черными полосками. В Америке палитра дополнена Crystal Red Tincoat, Inferno Orange Metallic.
Покупатели хотели приобрести именно такого «Шмеля», и в результате компания выпустила спецверсию Chevrolet Camaro Transformers Special Edition. Вообще, участие Шевроле Комаро в кино было очень удачным пиар-ходом, который позволил увеличить спрос на него по всему миру.
Интерьер
Современный дизайн и внимание к деталям – вот основное определение, которое можно дать салону Chevrolet Camaro. Стильная приборная панель оформлена очень оригинально.
В автомобиле установлено мультифункциональное телескопическое рулевое колесо с регулировкой по углу наклона и отделанное кожей.
Водитель и пассажиры могут комфортно разместиться на спортивных сидениях с активными подголовниками и развитой боковой поддержкой, с регулировкой в 6 положениях. Есть подогрев передних кресел, а задние сидения складываются. Не забыли изготовители и про детей. Для них в Chevrolet Camaro есть крепление Isofix. Пассивная безопасность представлена шестью подушками и ремнями с преднатяжителями.
В базовой комплектации автомобиля предложены акустическая система премиум-класса Boston Acoustics на 245 Вт с усилителем и девятью колонками, AM/ FM /CD /MP3 /AUX, USB, Bluetooth, круиз-контроль, кондиционер, камера заднего вида, датчики давления в шинах. Семидюймовый цветной сенсорный дисплей идет как опция.
Объем багажника у Chevrolet Camaro 364 литра.
Типы двигателей Chevrolet Camaro 5
Под капотом автомобиля могут находиться два типа двигателей: объемом 6,2 л. мощностью 405 л.с., расходующий в загородном цикле 10,2 л. бензина на 100 км. И объемом 3,6 л., мощностью 328 л.с. с максимальным крутящим моментом 370 Нм при 5,200 об/мин.
Расход топлива последнего по шоссе с автоматической 6-ступенчатой трансмиссией Hydra-Matic 6L50 с возможностью ручного переключения на руле – 8,1 л./100 км. По городу эта цифра чуть больше: 15,9 л./100км. Но если сравнивать с более дорогим Dodge Challenger SRT8 2009 года, то тот уступает Chevrolet Camaro в экономичности.
Максимальная скорость Chevrolet Camaro 250 км/час, разгон от 0 до 100 км/час 4,7 или 6,2 сек. в зависимости от силового агрегата.
Рулевое управление с переменным усилием и независимая подвеска обеспечивают прекрасную управляемость, а дисковые тормоза (на моделях SS с четырехпоршневыми суппортами Brembo) гарантируют уверенную остановку в любой ситуации.
Автомобиль доступен в России в комплектациях 2LT и 2SS. Купить Chevrolet Camaro 2015 сегодня можно примерно за 3 900 000 и 4 600 000 рублей, соответственно.
Самая продвинутая модель Chevrolet Camaro ZL1 предназначена для тех, кому вождение снится. Camaro ZL1 оснащен двигателем с турбонаддувом объемом 6,2 л., мощностью 580 л.с., работающим в паре с 6-ступенчатой механической коробкой передач с двойным сцеплением. Цена на Chevrolet Camaro ZL1 в 2013 году $54 350, но в России он не продается.
Обновленный Chevrolet Camaro 2014
На автосалоне в Нью-Йорке 2013 состоялась премьера рестайлинговой версии купе Chevrolet Camaro 2014 модельного года. Это самое серьезное обновление модели пятого поколения, начиная с момента ее выпуска в 2009 году.
Итак, внешне Шевроле Камаро 2014 получил иное оформление передка с более узкой решеткой радиатора, отчего прищур модели стал еще злее. При этом увеличился воздухозаборник в бампере, а под противотуманки выделили отдельные секции.
Сзади появился новый спойлер, который отныне для базовых версий не входит в стандартное оснащение, но наиболее заметным изменением стали полностью новые задние фонари со светодиодами, которые выполнены в стиле классических моделей Camaro.
Кроме того, корму обновленного купе можно отличить по иному заднему бамперу с массивным диффузором и другим патрубкам выпускной системы. А на купе Camaro SS переделали капот, установив в его центр решетку для охлаждения двигателя, которая заменила используемую ранее одиночную прорезь.
В салоне новинки особых изменений не произошло, за исключением появления дополнительных вариантов оформления и спортивных кресел Recaro для версии SS. Осталась на месте и вся техника, но отныне в линейку вернулся Camaro Z/28, прародитель которого появился еще в 1967 году для участия в гонках Trans-Am.
Camaro Gen 1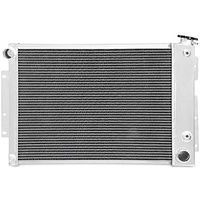 Subscribe to our newsletter
Get up to date with our latest promos.
Stay Conntected
Copyright © 2021 Car Mods Australia | E-commerce software by Neto
Terms & Conditions
Welcome to our website. If you continue to browse and use this website, you are agreeing to comply with and be bound by the following terms and conditions of use, which together with our privacy policy govern Car Mods Australia's relationship with you in relation to this website. If you disagree with any part of these terms and conditions, please do not use our website.
The term 'Car Mods Australia' or 'us' or 'we' refers to the owner of the website whose registered office is 3/24 Technology Drive, Arundel QLD 4214. Our ABN is 14 146 318 612. The term 'you' refers to the user or viewer of our website.
The use of this website is subject to the following terms of use:
The content of the pages of this website is for your general information and use only. It is subject to change without notice.
Neither we nor any third parties provide any warranty or guarantee as to the accuracy, timeliness, performance, completeness or suitability of the information and materials found or offered on this website for any particular purpose. You acknowledge that such information and materials may contain inaccuracies or errors and we expressly exclude liability for any such inaccuracies or errors to the fullest extent permitted by law.
Your use of any information or materials on this website is entirely at your own risk, for which we shall not be liable. It shall be your own responsibility to ensure that any products, services or information available through this website meet your specific requirements.
This website contains material which is owned by or licensed to us. This material includes, but is not limited to, the design, layout, look, appearance and graphics. Reproduction is prohibited other than in accordance with the copyright notice, which forms part of these terms and conditions.
All trademarks reproduced in this website, which are not the property of, or licensed to the operator, are acknowledged on the website.
Unauthorised use of this website may give rise to a claim for damages and/or be a criminal offence.
From time to time, this website may also include links to other websites. These links are provided for your convenience to provide further information. They do not signify that we endorse the website(s). We have no responsibility for the content of the linked website(s).
Your use of this website and any dispute arising out of such use of the website is subject to the laws of Australia.
Any purchase from this website is subject to the following terms of use:
All products sold by Car Mods Australia may be returned within 30 days of the original invoice date for a refund or store credit. All returns require an RMA (Return Merchandise Authorisation) number, and freight charges are strictly non-refundable. No returns will be accepted on opened, installed or otherwise used products. Failure to comply with the terms states herein, may result in delayed processing and/or refusal of return. Items that were shipped incorrectly, or have been damaged in transit, must be reviewed by a member of our customer service team.
Please make sure that returned orders are shipped well and the product and packaging is not damaged. Any damage may attract a re-boxing coost. Do not attach the return shipping label to the product packaging as this will VOID the return.
Any clearance items, or special order items are not eligible for return unless an agreement is made with Car Mods Australia in writing prior to the purchase.
Refused or undeliverable orders that are returned to our warehouse will be treated like a standard return, this means that all shipping costs, including return freight charges and any fees attributed by the shipping company will be deducted from the product refund or charged to the order if the customer elects to re-ship.
Due to the associated transactional costs from the use of Afterpay and Zip Money, any order cancelled using either payment merhod will attract a 6% processing fee. Swapping to another product with Car Mods Australia will not attract any cancellation fee. Please note that cancellation fees if applicatble is added to the processing fee.
All parts must be installed by a licenced mechanic to obtain warranty. You may be asked to provide proof of this at the time of processing any warranty claim.
Shipping:
We offer a very competitive shipping flat rate service. Due to new costs being introduced by couriers, we DO NOT REDELIVER if there is a futile delivery attempt at your address. Your package will be held at your local depot available for pickup. Your package can be redelivered but it will be charged at a cost of $15/redelivery and there is a 24 hour turnaround time for redeliveries to be actioned by couriers. We always recommend that you put your business address as your delivery address to ensure successful delivery. Alternatively you can select ATL (Authority to Leave) in the checkout and your package will be left at your front door.
Authority to leave — what does this mean?
Our deliveries are tracked and require a signature on delivery. You can choose what happens if no one is at the shipping address when the courier attempts to deliver your order.
If you choose 'yes' for 'Authority to leave' the courier will put the package in a safe place out of the weather according to your instructions.
If you choose 'no' for 'Authority to leave' then the courier will put a card in your post box indicating which local post office (parcels shipped via Star Track or Australia Post only) or depot you can collect the package from. You will need to provide identification to collect from the post office/depot.
Authority to leave terms & conditions
By ticking the box or selecting 'yes' at the checkout page on the website, Car Mods Australia's agent will leave your parcel at your premises in accordance with your instructions. Please note that the driver does not require a signature often he/she will not try to obtain one so parcels may be delivered without knocking/ringing.
You agree that the parcel is deemed received when left at your premises.
Car Mods Australia, and contractors associated with the delivery, do not accept responsibility for any loss or damage which results from this Authority to Leave delivery method. You agree to release 'Car Mods Australia' from and against any and all claims, demands, liabilities, losses, costs and expenses, including financial and other consequential losses, made, suffered or incurred by you or any other person or entity as a result of this Authority to Leave.
If you do not give 'Car Mods Australia' Authority to Leave, you will have to be at your premises in order for the delivery to occur.
6. 2016 Camaro SS
(image courtesy of General Motors)
Our take: Are we in the true golden age of muscle cars? Some say yes — and the 2016 Camaro may be further proof. Engineers continue to develop new technology and designs to push the limits of performance. Although the 2016 Camaro SS still needs to prove itself, you have to be impressed with 4-second 0-60 times and 12.3-second quarter-miles from the factory. It's 455 horses worth of LT-1 power in a package that weighs 380 pounds less than its predecessor.
The 1969 Camaro ZL1 Offering
Estimate
Announced Reserve
The original ZL1 Camaros are the rarest and most sought-after examples of Chevrolet's legendary first-generation pony car. Today, collectors recognize the exclusivity and prestige of owning an authentic ZL1 as so few were produced, and even fewer exist still. As such, Mecum Auctions is proud to present two stunning examples in an unprecedented offering on Thursday, January 11, 2018, during the Kissimmee, Florida, auction. These two exceptional ZL1 Camaros will be offered as a matched pair. As numbers 18 and 30 of the 69 total produced, both were a part of the first 50 units ordered by Fred Gibb. Both machines are well known in the ZL1 community and also retain their original all-aluminum 427 CI V-8 engines. Furthermore, both ZL1s have been professionally restored in their highly desirable factory color combinations and are documented with factory paperwork.
Despite unrelenting resistance from General Motors management, in the late 1960s, Chevrolet's legendary product manager Vince Piggins regularly teamed with a small cadre of faithful dealers to produce insanely powerful limited-production muscle cars. The instrument of this insurrection was the Central Office Production Order program (COPO). Designed to facilitate orders for commercial fleet vehicles such as taxis and police cars, the COPO system provided Piggins and his dealers the means to circumvent the corporate racing ban (and its limits on displacement and horsepower-to-weight ratios) and supply factory-built racers and speed equipment to their customers. The 1969 ZL1 Camaro was the most sensational of these forbidden fruits, a simple yet devastating combination of heavy-duty suspension, brakes and driveline and Chevrolet's all-aluminum 427 CI big-block engine. Designated by the factory as Central Office Production Order 9560, the ZL1s were the rarest of all 1969 Camaros. Chevrolet built a total of 69 equipped with the COPO 9560 option package.
The Camaro ZL1 was the brainchild of Fred Gibb, owner of Fred Gibb Chevrolet in La Harpe, Illinois, and a leader in Piggins' network of Chevrolet performance dealers. Gibb first attracted national attention when Herb Fox, a Gibb Chevrolet salesman, bought a 1967 Camaro Z28 through the dealer and began racing it in NHRA D/Gas. Fox ended the 1967 season with a perfect 35-0 record, and Gibb was hooked. Fox soon thereafter met Chevrolet tuner and drag-racer Dick Harrell, and immediately introduced him to Gibb, facilitating one of drag-racing's most famous partnerships and directly leading to the creation of the COPO 9560 ZL1 Camaros.
The ZL1 engine had its origins in the fire-breathing L88 427 CI big-block racing engine. Developed for the Can Am racing series by Bruce McLaren and Jim Hall's innovative Chaparral team, the ZL1 made extensive use of aluminum in the block, heads, intake and ancillary pieces, employing steel only for the forged crank, connecting rods, pushrods and camshaft. The result was the most exotic American production engine ever built to that time, one weighing little more than a cast-iron Chevy small-block V-8 while generating more than 500 HP, which far outstripped its almost farcical factory rating of 430 HP.
The ZL1 Camaro's primary purpose was to rule NHRA and AHRA Super Stock drag racing, the most famous example being Bill "Grumpy" Jenkins' "Grumpy's Toy VI," which competed in both NHRA Super Stock and NHRA/AHRA Pro Stock ranks. And rule they did, beginning with the Gibb-Harrell-Fox Super Stock Eliminator win at the 1969 NHRA Winternationals. ZL1 Camaros were equipped on the line as big-block-specification cars with F41 heavy-duty suspension, power front disc brakes, ZL2 cowl-induction hood, a choice of heavy-duty 4-speed manual or Hydra-Matic 3-speed automatic transmissions and Chevrolet's extra-strength 12-bolt Positraction rear end with 4.10:1 gearing. At a sticker price of more than $7,200, the ZL1 Camaro was ridiculously expensive, making sense only to a professional racer planning to recover at least some of that cost with prize winnings. Read More
No. 18 is highly celebrated in the supercar community and boasts known ownership history from day one. Documented with its original bill of sale and dealer order sheet, the car was restored by supercar specialist Dave Tinnell; it is also one of very few known to retain its original all-aluminum 427/430 HP ZL1 engine.
The well-known No. 18 is one of just 10 finished in Code-51 Dusk Blue. When Gibb failed to find a buyer for the car, he returned it to General Motors, which sent it to Tamson Chevrolet in Danville, Virginia. It was purchased there on July 15, 1969, by Ronald Dix of South Boston, Virginia, who traded in his 1969 Corvette and financed the remainder of the $7,324.35 price tag through General Motors Acceptance Corporation. Soon thereafter, the car developed an engine noise, but when Chevrolet refused to honor the warranty, Dix answered, "Fine, I won't pay for the car, either." Naturally, GMAC repossessed the car from Dix. A Chevrolet Warranty representative then offered it for sale to drag-racer Edward Sanderson of Lynchburg, Virginia, who purchased the car on December 18, 1969.
Sanderson immediately commissioned Kennsey Electronic Balancing to rebuild the engine and prepare it for drag racing. Sanderson raced the ZL1 Camaro for a couple of years before selling the car to family-friend Patricia Preston. In 1982, he bought the car back from Ms. Preston and kept it until 1987, when he sold it to Bob Porter Chevrolet in Ligonier, Indiana. Porter restored the Camaro to its original configuration in 1988 and cared for it until 1993, when the U.S. Camaro Club announced that it would be the grand prize in a raffle to celebrate the Camaro's 25th anniversary.
The club made it easy to enter the raffle for the ZL1, which was suddenly the toast of the Camaro community: lay down $50 for a poster of the car, and you were in. Mike Ryan bought two, one for each of his children, and later became the lucky new owner. Noted supercar-collector Charley Lillard took over ownership in the mid-1990s and then sold it to another leading light in the Chevrolet community, Larry Bowman of Redwood City, California. Bowman had the car restored again, this time by Camaro and supercar-specialist Dave Tinnell of Edmonton, Kentucky. Tinnell, who has restored many COPO Camaros including Yenkos and other ZL1s, completed the car to the concours standards it retains to this day.
Subsequently owned by muscle-car authority Colin Comer and part of the Brett Torino Collection in Las Vegas from 2005-16, COPO 9560 Camaro No. 18 is a spectacular artifact of the classic muscle-car era. Its original engine carries the matching VIN stamp, and the car is documented with the original handwritten dealer order sheet and original bill of sale from Tamson Chevrolet. The ownership history is known since new, and today, this ZL1 Camaro is just one of very few boasting its original engine. Beautifully preserved and brutishly powerful, this is the car for the demanding Camaro collector seeking a top-tier example of the legendary ZL1.
Couple the fantastic No. 18 with another outstanding example of the original ZL1 Camaros, and it becomes the definition of a match made in muscle-car heaven.
Camaro ZL1 No. 30 boasts only 361 original miles and is another of the very few known to retain its original all-aluminum 427/430 HP ZL1 engine. Documented with the original Protect-O-Plate and Manufacturer's Statement of Origin, the car's professional restoration has earned a multitude of Camaro Nationals awards. No. 30 is also among the mere 13 examples successfully sold by Gibb.
As mentioned earlier, the price of the ZL1 creation was exorbitant at best. Yet it was only after Gibb ordered the first 50 ZL1 Camaros that he discovered, to his horror, that Chevrolet was charging him for the development of the ZL1 engine package; first quoted by Chevrolet at approximately $400, the amortization of those costs added $4,160 to the Camaro's base price, ballooning the bottom line to the more than $7,200 price tag. Facing monumental financing charges and saddled with 50 cars utterly unsuited for public roads and bearing weapons-grade sticker shock, Gibb managed to negotiate a mass buyback by Chevrolet. As a result, this Hugger Orange-on-black 1969 ZL1 Camaro is one of the only 13 eventually sold by Fred Gibb Chevrolet, making it a rarity even amongst the 69 total ZL1 Camaros ever built.
According to the November-December 1993 issue of "Camaro Enthusiast" magazine, Pizza Hut franchisee Larry Kreigh of Shawnee Mission, Kansas, purchased the car from Gibb in May 1969. After Dick Harrell prepared it for drag racing at his Kansas City performance center, it raced under Pizza Hut sponsorship in Super Stock competition, setting the track top-stock B Class Record running the quarter mile in 11 seconds flat at 123 MPH on 7-inch tires. For a periord of approximately two years, Kreigh swapped cars with his racing partner Jim Cooper and later swapped the cars back with no paperwork or transaction involved. Afterwards, the car was placed in long-term storage for many years, never registered or seeing duty on the street. Thomas Sherwood of California located and purchased the Camaro in 1989, by which time Kreigh had removed all the racing equipment and had begun restoring it. Awed by its 8.4-mile odometer reading, Sherwood commissioned Mark Schwarz of Springer Auto Body & Paint in San Jose to execute a restoration. The car was completed on August 7, 1993, and was immediately transported to Dearborn, Michigan, for the ZL1 Reunion at the 1993 Camaro Club National Meet, where it earned First in Class, Best Paint, Best Engine Compartment and a score of 986/1,000 points, all of which were chronicled in a cover feature story in "Camaro Enthusiast" magazine.
ZL1 No. 30 was expertly restored again in 2004 under the ownership of Larry Bowman of Woodside, California, who bought it in 2000. It remains in excellent condition today, now showing only 361 miles. Of the 15 Hugger Orange ZL1 Camaros produced, it is one of 10 4-speeds and one of three 4-speeds sold by Fred Gibb Chevrolet. It is a singularly exceptional example of Chevrolet's "Super Camaro," whose provenance is backed up by documentation that includes its original Manufacturer's Statement of Origin and the Protect-O-Plate.
As two of just 69 ZL1 Camaros ever produced, both of the first run of 50 originally ordered by Fred Gibb, both still retaining their rare and original 427 CI ZL1 engines, and both boasting factory 4-speed transmissions, these are unquestionably two of the best and most authentic 1969 ZL1 Camaros still in existence today. With their offering as a matched pair at the world's largest collector-car auction this January in Florida, Mecum Auctions has created an American muscle-car collector's dream scenario, and one that will likely never again be repeated. The opportunity to bid on these cars, or even to merely enjoy their magnificent presence, is one that no enthusiast should deny oneself.
Chevrolet Chevelle SS фото

Автомобиль Chevrolet Corvette C1

Chevrolet Corvette C2 StingRay
Новый Chevrolet Monza – седан, который угодил всем

История автомобиля Chevrolet Corvette
Chevrolet Impala 1967
4 поколение, 1993–2002
В 1993 году стартовали продажи автомобилей четвертого поколения, выпуск которых был организован на заводе в канадской провинции Квебек. Этот Chevrolet Camaro был приятен глазу и комфортен, богато оснащен и, что самое замечательное, вернулись моторы, сила которых заслуживала уважения.
Гамма силовых агрегатов состояла из двигателей V6 объемом 3,4 и 3,8 литра, а также мотора V8 5.7, их мощность варьировалась от 162 до 305 л. с. А особый интерес вызвали две ограниченные серии — в честь 30-летия модели в 1997 году была выпущена 330-сильная версия, а спустя пять лет и 345-сильная.
Кабриолет Chevrolet Camaro четвертого поколения после рестайлинга, 1998–2002
И как только Camaro начал восставать из пепла после кризисов и начинать новую жизнь, его поразил новый удар. В середине девяностых корпорация General Motors начала активно расширяться и создавать новые бренды, такие как Geo и Saturn и, не уследив за своим финансовым положением, к 2002 году была практически на грани банкротства, из-за чего пришлось отказаться от производства многих автомобилей, в том числе и Chevrolet Camaro.